We had Gabe's birthday party this last weekend. As I always do, I let him pick what kind of cake he wanted. It wasn't any great surprise that Gabe wanted a volcano cake. And, it couldn't be a picture of a volcano. It had to be a 3-D volcano. Here is the birth of a volcano in pictures...and, of course, a bunch of words.
I made the base of the cake out of a standard 9 x 13 cake pan. The volcano was made out of a cake baked in this mixing bowl...
When you are baking such a deep cake, you need a way to evenly conduct the heat to the center of the cake. Without that, the edges would be almost charred by the time the center was solid. To take care of that, get a metal can, remove both ends, wash thoroughly, and completely grease the inside and out. Place the can in the middle of the pan and then pour in the cake batter. After it bakes, slide the piece of cake out of the can and place it back into the cake before frosting it...or, if you are making a volcano, keep the piece out because it makes a great crater.
Place the dome cake on top of the sheet cake and chill thoroughly. A cold cake is easier to shape.
Once the cake is shaped, apply a thin layer of frosting to contain the crumbs. Then start decorating. Frosting the grass was the first decorating I did.
I then made a deep brown frosting to cover the volcano.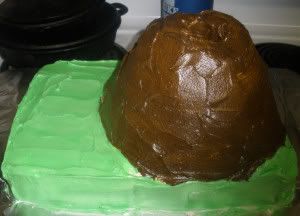 Plain brown looked too fake. I added a few drips of black food coloring around the volcano and spread it into the frosting to give it some texture.
Then, I added the lava. Once again, a solid color looked too fake. So, I added a bit of yellow food coloring to the surface of the red lava and that added a bit of a sheen and a little orange. I think it looked a lot better.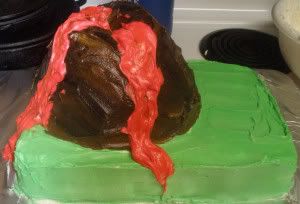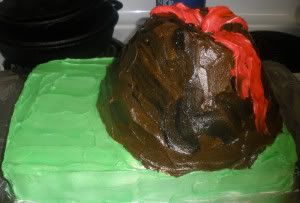 Next, came the words. I was out of frosting bags and couldn't find my lettering tip. So, I cut a tiny snip off the corner of a ziploc bag and used it to pipe on the words.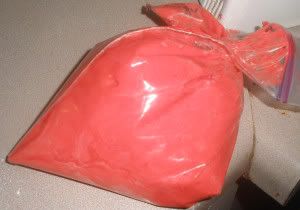 Gabe loved it and had a wonderful party.