My dad is a pretty cool guy...but then he would have to be to be married to
my mom
for 40+ years. My dad has always been willing to stick his neck out to protect the family and he always, always made sure that my sisters and I knew that we could do anything we put our minds to...that there are no barriers just because we are women. He adores his grandchildren and loves to do things with them. The crazy man even took my kids camping and shuns air mattresses as being something for wusses (ROFL). Like any parent, he has his flaws but I am so proud of everything he has done.
And, you know whats awesome? The local newspaper where he lives has recognized what a special individual he is. Please take a moment to click on the pictures below. They will open up so the text of the article is legible.
HAPPY FATHER'S DAY DAD! I love you.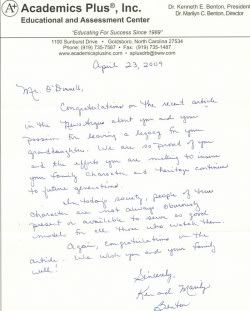 a letter of recognition from the company
my dad does tutoring with
**************************************************
To see what everyone else in class is bringing to
SHOW AND TELL
, take a trip to visit the
Miss Mel, Goddess of the Infertility Blogosphere
.

**************************************************
And, one little fun extra. I have a really cool project going on for a fellow blogger. It is going to be an incredible surprise and if you want in on it,
EMAIL ME
!
**************************************************
I still haven't heard from a few of the winners of the
Great Animal Exodus Giveaway
. The winners are
Jen
who chose the dino group,
Infertility Rocks
, Ms.
GeekByMarriage
who had 2 entries win and picked the fish with one of them,
Arian
,
Beautiful Mess
,
WiseGuy
who selected Garfield,
battynurse
who gets Pooh Bear and friends, and
Emmy
.
Ladies, email me with your mailing addresses and slowly but surely I'll start mailing out the packages.