As always, life was crazy this weekend. On Friday, Joey's friend Lily was over (she lives behind us) and Joey, Lily, and Gabe were playing "fight" on the trampoline. Needless to say, Gabe was being Gabe and was wide open. He ended up going forehead first into one of the poles that support the safety net. The safety net left a grid of scratches on his goose egg.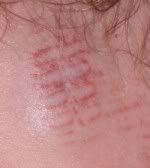 Luckily, instead of the goose egg growing bigger and developing a nasty bruise, it was mostly gone by the next day. However, the lovely little grid of scratches is still there.
And, Marty has decided he wants to learn to bake this summer. On Friday, he requested his first baking lesson. I gave him my cookbook and he decided we needed to make lemon bars. He did a great job and the lemon bars didn't last that long at all.
On Saturday, my parents came up and my dad worked on the platform "tree fort" he is building for the boys in our back yard. Instead of a ladder, it has a staircase so Gabe can easily go up and down. And, my dad added a cross brace between 2 of the legs and attached a slide their for Gabe.
Joey also had me pull his tooth on Saturday. We have had to pull almost every single loose tooth that Joey has had. His teeth are extremely stubborn about coming out and sometimes, even though they are very loose, they won't fall out. They get to a point where the irritation of having the tooth loose in his mouth outweighs the temporary pain of having the tooth pulled. Every other time we have done this, I've been able to tie a string around it and yank the tooth. But, this time, I couldn't get the string into a secure location. It kept slipping off. So, I told Joey that if he wanted it out I would have to use something like pliers that would give me a secure hold. My brave, brave boy told me to go ahead.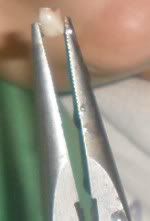 He felt so much better once the tooth was out.
Sunday was fairly quite...church and family time. Then the boys had friends over in the afternoon. How was your weekend?