I'm participating in the the world's easiest stitchalong, the
Totally Useless Stitchathon
. The whole purpose of this is to collect all the orts (small pieces of floss, thread, yarn, or other fibers) that you trim off your stitching projects over the year. You can collect them in the see through container of your choice and, by the end of the year, you have a colorful and possibly artistic representation of your year's activity. I still think that when we get closer to the end of the year, I will buy some clear glass ornaments to put the orts in.
I finally found a decent container to keep my orts in. Its amazing how far they expand when freed from the little containers they were crammed into.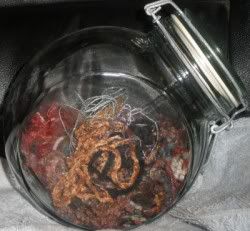 Aren't those colors gorgeous?
****************************************

And, this is the start of a present for someone very special...