One of the things that has always caught my eye is artwork in unexpected places....the statue where you wouldn't expect it or the mural gracing the side of a building. Here in the Triangle area of NC, there are a plethora of gorgeous wall murals. I'd like to share a few of them with you. Click on each picture to get a bigger view (especially the first one).

This one is right around the corner from my house
here in Cary...painted by Val Fox
picture posted to Flickr by marttj



On the wall of Gypsy's Diner in Cary
posted to Flickr by godonlyknows
in downtown Chapel Hill...I've always loved this one
posted to Flickr by WiBadger
Isn't it cool the way the sky mirrors the mural in this picture?
posted to Flickr by inkified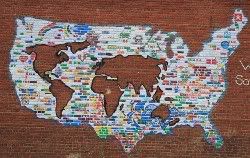 This one is so unique...titled World Within One Place
posted to Flickr by ctrl-alt-grant
Do you have any fun, unique, or different artwork anywhere near you?
**************************************************
To see what everyone else in class is bringing to
SHOW AND TELL
, take a trip to visit the
Miss Mel, Goddess of the Infertility Blogosphere
.

**************************************************
And, one little fun extra. I have a really cool project going on for a fellow blogger. It is going to be an incredible surprise and if you want in on it,
EMAIL ME
!
**************************************************
Finally, I'd like to announce the winner of the
Great Animal Exodus Giveaway
. The winners are
Jen
who chose the dino group,
Infertility Rocks
, Ms.
GeekByMarriage
who had 2 entries win and picked the fish with one of them,
Arian
,
Beautiful Mess
who picked the Halloween group,
WiseGuy
who selected Garfield,
battynurse
who selected the Pooh collection, and
Emmy
.
Ladies, email me with your mailing addresses and slowly but surely I'll start mailing out the packages.