Great stitchy giveaways...
Two fabulous surprise giveaways on two fabulous blogs...
Kathy's Stitching and Other Comments
and
Stitcher's Anon
. Both Kathy and Gaynor do such beautiful work so, even if you don't win, its worth stopping by and checking it out.
My WIP (work in progress for you non-stitchers)
I have finally made progress on
Dragon of Air
by
Dragon Dreams
. I'm stitching this on my friend Dee's All About Me Round Robin. I don't know why I've had such a mental block on this cute little dragon. Its one of my favorite things to stitch and I'm stitching it in my favorite color. I've gone from this...
to this...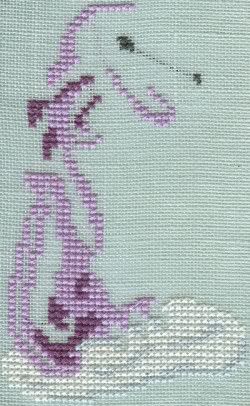 One or two more nights and I should have it done. Woohooo!