Welcome to our weekly expedition into the land of Show and Tell. Y'all know Show and Tell is wasted on the elementary schoolers. Join us weekly to show off an item, tell a story, and get the attention of the class. In other words, this is Show and Tell 2.0.
I promised you earlier that I would show off my Thanksgiving feast. I want you to know that I cooked this almost completely by myself. My wonderful hubby was my sous chef on a few items and was my clean up man (a job he excelled at). I truly owe him for the wonderful clean up job he did. It was truly fabulous to come home to a clean kitchen. Instead of dinner for 7, it ended up being dinner for 11. Guess it's a good thing I cooked like I was feeding an army. As I said before, the menu included a scrumptious 20 lb turkey, a delicious 8 lb glazed ham, garlic herb mashed potatoes, mashed sweet potatoes, apple-walnut-sausage stuffing, green bean casserole, corn, croissants, caramel apple crunch pie, pumpkin pie,
and a cheese cake
(the kids asked me to keep it at home). Everything (except the cheesecake) was made from scratch including the pie crusts and the cream soup for the green bean casserole.

turkey straight out of the oven


honey glazed ham sliced and ready to be served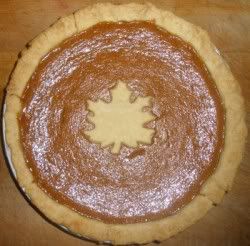 homemade pumpkin pie


caramel crunch apple pie -


after you try this you won't want regular apple pie




The whole spread
starting in bottom left corner - pumpkin pie, ham, caramel apple pie
green bean casserole, gravy, apple-walnut-sausage stuffing
mashed sweet potatoes, turkey (covered in foil), garlic herb mashed potatoes
corn

*****************************************
To see what everyone else in class is bringing to
SHOW AND TELL
, take a trip to visit the
Miss Mel, Goddess of the Infertility Blogosphere
.
*****************************************
BTW, for anyone who was wondering about the song used in
Pink Glove Dance
, the song is
Down by Jay Sean
.