I know many
crazies
people were out shopping and trying to score the deal of the century or at least the deal of the season today. Not me! Today, I was giving thanks that our kids have awesome friends with even awesomer (not a word, I know) parents.
When our house was build back in '73, the builders included a very cool looking wood burning stove. Sadly, even back in '73, the stove was not up to code and it DEFINITELY does not meet today's safety standards. It never, ever drew smoke up correctly and, frankly, was not safe to be used. Hell, even with the damper closed, there was a gap all the way around it letting the chimney act as a vent for the heat in the winter and the cool in the summer. Sorry, but I don't want to pay to heat or air condition the outdoors. The, to add insult to injury, it developed a serious leak during the last heavy rainstorm we had. The bitch had to go.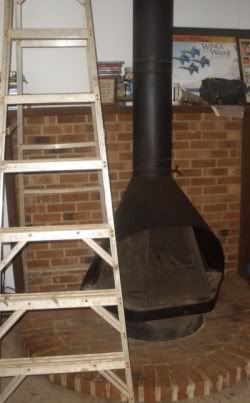 Dudley, the dad of our kids' friends, came over to help me remove the wood stove. It was a time consuming job but wasn't that difficult.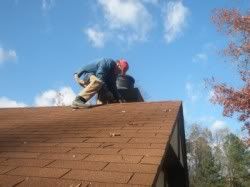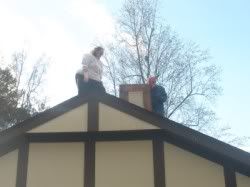 Yeah, that is me up there helping.
The kids used the pieces of the chimney we dropped to the ground to build a "cannon".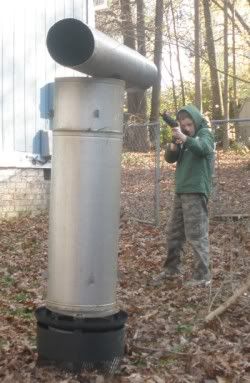 Gabe climbed the indoor ladder and tried to climb the outdoor ladder.
And, I now have this nice wide-open space...
With the hole patched, I'm no longer trying to heat the outdoors. Eventually, we would like to put a gas fireplace in this area. Until then, it will make a great location for our Christmas tree this year. And, the wood stove sans stovepipe will make a perfect outdoor fireplace. It will be fun to have a place to toast marshmallows. So, what did you do on black Friday?