I survived the party and the rest of the weekend. And, believe it or not, my house survived in decent condition. Woohooo!
Counting Joey, we had 7 third grade boys at the party. My two nieces, Marty, and Gabe were also there. There were also 3 parents, 1 sibling, Joey's grandparents (my parents) and Aunt Jennifer (my sister by choice), and my hubby and me at the party for a grand total of 20 people. We have very casual, unstructured birthday parties around here. For the first little while, the boys all raided our costume/weapons stash and had a war game going in the back yard. Then, we held the
mummy wrapping game
my friend Rys suggested. They all had a blast...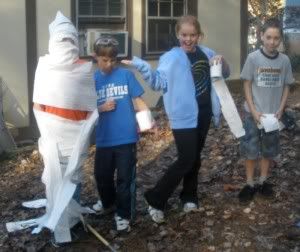 I think maybe this team was the winning team because my niece Brianne was directing the wild hellions who were with her...go Girl Power!!!
After the game, Joey opened his presents and this lazer tag game was the hit gift of the party...
Joey also got Star Wars books, many lego sets, some Yu-Gi-Oh and pokemon cards, and a G.I. Joe Battleship game. He was thrilled with the generosity of everyone.
The cake was a huge hit (pics of the cake to come during Wednesday's Show & Tell) but the birthday crowd only demolished the top 1 ¾ layers.
My nieces spent Saturday night here and the kids (excluding Gabe) all stayed up to watch a movie. Today was Joey's real birthday. Since my MIL and another close family friend hadn't been able to come to the party we had a family dinner. Since my sis and her hubby didn't get here until after 5:30 pm to pick up my nieces, I fed all of them too. I made 3 cooking trays worth of pepperoni bread...yum yum...and I actually have leftovers. I was really hoping for that because pepperoni bread is even better on day 2. Can't wait for lunch tomorrow. As you can see, my lovely nieces decided to torment Marty with a little cousinly affection as they said good-bye.
Everyone seemed to have a great time this weekend. It was great to spend time with friends and family. I sent tons of cake home with all the Sunday dinner attendees (and still have 2/3 of the bottom layer left). Only 3 weeks until I have to do it all again.