Lori over at
Weebles Wobblog
says that "
Perfect Moment Monday
is more about noticing a perfect moment than about creating one. Perfect moments can be momentous or ordinary or somewhere in between."
This weekend was amazing. The whole family got together at my parents' house for an early Thanksgiving meal.
We had moments of pure goofiness and silliness...
moments of more sedate fun...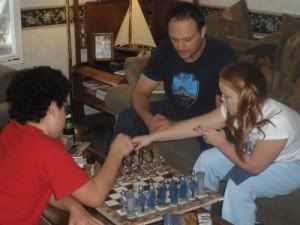 and uncles and nephews "practicing" their martial arts skills
Most of all, it was just time for us to be together as a family.
There was also one miraculous turn of events this weekend. Gabe is potty trained. He is doing everything in the potty. I expect we will have some slip ups but that is normal. I'm so proud of my little guy and so relieved he is out of diapers.
*****************************************
Go check out the other perfect moments at this week's
Perfect Moment Monday
on Weebles Wobblog.
*****************************************
Btw, check out my new
Thanksgiving craft idea
over at Examiner.com