Every year, I let the kids pick what kind of cake they want for their birthday. Then, we have a loose theme based on that cake. This year Joey requested a pyramid cake for his party. I told him there was no way I would attempt the classic smooth sided Egyptian pyramid but I could manage a step pyramid. 7 boxes of Devil's Food cake mix, 21 eggs, 9 1/3 cups of water, 3 ½ cups of oil, and some of the best damned frosting EVAH combined to make this behemoth of a cake...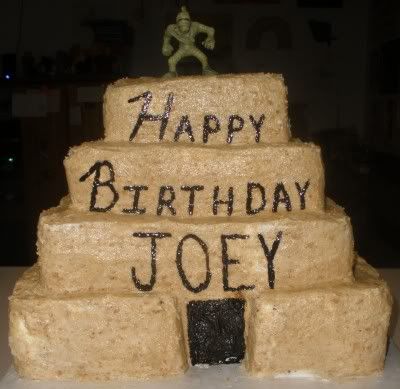 BTW, that is a mummy figurine on top.
Yeah, I could have made a smaller cake but the wonderful perfectly square pans I had access to resulted in a cake this big. Each layer was 2 ½ inches tall resulting in a cake 10 inches high.
Honestly, this cake wasn't that hard to make. I baked and assembled it Friday night and applied the deliciousness that was the frosting I made on Saturday. The key to getting a thin, smooth frosting cover is to apply it in two layers. When I assembled it, I covered each layer with a thin cover of store bought cream cheese frosting. This layer sealed in the crumbs and stuck the layers together. Once I did that, I refrigerated the cake over night. Chilling the cake helped set the frosting layer and made this huge, heavy cake a bit more stable.
Devil's food cake and cream cheese frosting is always delish but what really made this cake was the outer layer of frosting. I made the super easy cream cheese frosting featured in
The Joy of Cooking
. I found the recipe over at
slashfood.com
Beat 8 oz. cold cream cheese (not rock solid, but it means you can use it straight out of the refrigerator) with 5 Tbsp. softened butter and 2 tsp. vanilla until combined. Gradually add 2 c. powdered sugar that has been sifted after measuring. Continue to add more sifted powdered sugar until you reach a consistency and sweetness that fits your taste.

No softening the cream cheese (though you do have to plan ahead with the butter). No whipping to a certain point that occurs for all of ten seconds before it's ruined. The hardest part is not eating the frosting straight from the bowl by the spoonful.
Then, to give the frosting the right color and the sandy texture, we crushed 18 cinnamon graham crackers (2 sleeves) and mixed it directly into the frosting. It truly was good enough to eat by the spoonful.
*****************************************
To see what everyone else in class is bringing to
SHOW AND TELL
, take a trip to visit the
Miss Mel, Goddess of the Infertility Blogosphere
.
*****************************************
BREAKING NEWS...Gabe used the potty!!!!