Now, I know this isn't the right time of year for Jack O'Lanterns but Halloween is one of my favorite times of the year. I also figured that after the ire inspiring nature of my last post we could all use something light and fun. Like most of y'all out there, I started out carving
boring
nice, normal Jack O'Lanterns like that cartoon to the left. And then, one Halloween quite a number of years ago, I stumbled across a miraculous thing in the grocery store. It was a
pumpkin carving kit
and, for less than $8, I too could create intricate, amazing Jack O'Lanterns. I started with some of the simpler patterns but I've gotten more daring every year. Last year was the most spectacular year yet. Here are a few of my Jack O'Lanterns from the previous few Halloweens...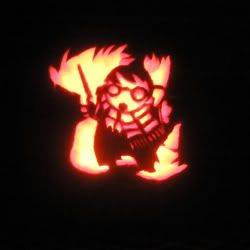 Harry Potter


Puss 'n Boots from Shrek


a werewolf
I want to try something like this for Halloween 2011 if I am brave enough.