Y'all, I got really luck when I got on board the
CSN Stores
blogger review program. I've tried out a wide variety of products from CSN Stores and I have not been disappointed by a single one I think one of the things I want to check out in the future is a
corner TV stand
for the tv in our den.. I'm not sure which part of this program makes me happier, getting to buy and try stuff or getting to share the wealth with y'all.
Remember when I told y'all that not only was I going to have a $125 giveaway for you but that I got to spend that too? Well, I got to go on a veritable shopping spree. I decided to continue on the pamper me phase started when I bought my beautiful wallet and I got shoes. Oh man, did I get shoes! Thanks to a combination of CSN Stores always low prices and a few mega deals, I managed to get three pairs of shoes...the J Renee Catrice in Taupe, the J Renee Mona in Gunmetal, and the Bella Vita Wren in Tribal Print.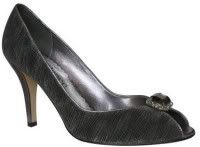 I followed the instruction on
how to measure your feet and find your proper shoe size
that I found on about.com. Based on these measurements, I ordered an 8 wide. Yes, these gorgeous shoes are actually available in wide widths which means no more pinch feet. All three shoes proved to be extremely true to size and fit me perfectly. Also, all three shoes are extremely comfortable. Both the J Renee shoes have 3 inch + heels and they still manage to be comfortable thanks to the wonderful padding on the soles. I personally find all three shoes to be well made, absolutely beautiful, and they would be worth every penny CSN gave me (hell they'd be worth full price out of pocket).
I also have to send some major kudos to the shipping department at CSN Stores. Right around the time I ordered them, the last Snowmaggedon had hit and, of course, there was the obligatory warning that shipping may be delayed due to the effects of the weather. Despite what they were dealing with, I had my lovely shoes in less than 5 days. Color me impressed.
So, on to what y'all are really waiting for...the giveaway. You are entering for a chance to win a $125 electronic gift card that can be used at any of the 200+ stores that fall under the CSN Stores umbrella. Remember, ONE COMMENT = ONE CHANCE TO WIN. In other words, each additional chance to win requires an additional comment. Winner to be chosen with the help of Random.org.
Mandatory Entry:
Extra Entries:
Follow my blog through Google Friends Connect and comment to tell me you do (1 chance)
Follow CSN Stores on Twitter and comment that you do (1 chance)
Follow me on Twitter and comment that you do (1 chance)
Tweet (or facebook) about the giveaway and leave me a link to your tweet in a comment (1 entry a day) - Check out this awesome #giveaway from @csnstores and @dragondream http://bit.ly/gFkOx3
Blog about the giveaway and leave me a link to the post in a comment (3 entries, so 3 comments)
The giveaway will run from now until 11:59 PM on February 9th.
Stop by on the 10th to find out who won. Make sure I can find your email address either on your profile or in a comment. I need it to contact you if you win.
The only compensation I received for this review were the shoes I was reviewing. I was only required to provide an honest review. All opinions are entirely mine.