Hey y'all...I have a bunch of stuff I want to share with you and it's all vaguely related under the crafty heading. Enjoy!
The Good
Remember when I showed y'all the
quilt pattern I was helping a friend design
? Well, Sheila has made some serious progress on the quilt and says I can share it with you guys. She has finished piecing the center block that includes the machine embroidered saying...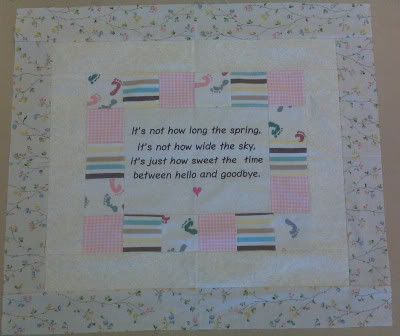 and she has finished the friendship squares that go in each of the four corners...
She has cut out almost all the other pieces for the quilt which means I may get to show y'all another progress picture soon.
The Bad
Honestly, I can't bring myself to put anything here. What I like or find amusing, someone else might think is horrible or vice versa. To get your fill of this, check out
Regretsy
or
Craft Fail
.
The WTF?!?
Y'all know I love to crochet. I can even see using crocheting to create striking artwork. But, I just have to scratch my head and say "What the fuck?" when I see these...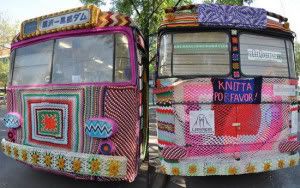 created by Rome based artist Magda Sayeg...
the web site calls this a knitted bus but
Ms. Sayeg is known for her crochet work
so I think it has been misidentified
created by the artist Olek as part of an art exhibit
another Magda Sayg creation...
it was driven through the streets of Rome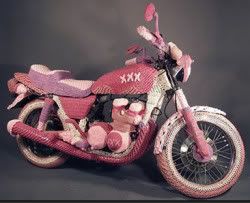 created by Washington, DC artist Theresa Honeywell
created by Prague artist, Jitka Havlickova
While I can certainly admire the artistry or the color splash offered by these, the mind simply boggles at the sheer number of hours it must have taken to do these. All of them are full size and, in the case of the bus and the smart car, are driveable. Can you just imagine hopping into that smart car and taking it for a spin...truly odd. A shout out of thanks to
Crochet Today!
for bringing this fucknuttery to my attention.
Ya know, this post has gotten awfully long. I think I'll put the Ooooooh My Gawd craftiness in a post later today. You might want to check back because there just might be a chance to win something in that post.