This venture into Ooooooh My Gawd territory is brought to you courtesy of
EdenFantasys
where you can

The other day when I was scanning through the multitude of posts on my facebook wall, I happened across a little gem from EdenFantasys. They had a post up about a Crochet Club workshop. This totally snagged my interest because well, two of my favorite things...crafty fun and adult fun. I loved the idea of crocheting a bag to store an adult toy in but, sadly, I didn't make it to the workshop because it was my oldest son's birthday that night. The great thing about seeing this post from EdenFantasys was it got me to explore a part of their website I hadn't visited before...their
club
s and
workshops
. Even though I missed the workshop on making a crochet toy bag, I think I'm going to have to check out the upcoming workshop on making your own massage candles and sugar scrubs.
Of course, after I left the EdenFantasys site, I had to head on over to Ravelry.com and see if they had any cool adult patterns. Here are the ones that tickled my fancy...
The first is to display.
The second is for a drag king to wear.

The designer used the crocheted condom
to hold his crochet hooks...hehehe, a condom for a hooker.
Can't find the link to that boob pattern.

a crocheted dildo

a spermity sperm sperm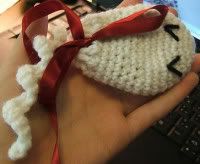 this spermity sperm is a cute little condom holder
So, I seem to remember mentioning something about a giveaway. As always, this is for the electronic gift card the lovely people at EdenFantasys give me for writing about their company. I don't need any new toys yet so I'm gonna let one of you go shopping. This is only open to grown ups...under 18 need not apply. So, tell me which one of these lovely little crocheted goodies you think EdenFantasys should host a workshop on next or tell me which one of their workshops you thing sounds most interesting.