Welcome to our weekly expedition into the land of Show and Tell. Y'all know Show and Tell is wasted on the elementary schoolers. Join us weekly to show off an item, tell a story, and get the attention of the class. In other words, this is Show and Tell 2.0.
Earlier this week, I got a surprise in the mail that made me incredibly happy and made me cry at the same time. My wonderful friends from the cross stitch board, led by the indomitable
Velda
, started stitching a gorgeous piece called Angel Heart Sampler in memory of all my precious angels. Due to various occurrences, including Velda's illness, the piece isn't quite done...but, that actually thrills me because I will be able to contribute to this memory piece. The first picture is the front of the design leaflet and the second picture is the piece they started for me. Please, please click on the bottom picture so you can actually see the gorgeous work they did for me.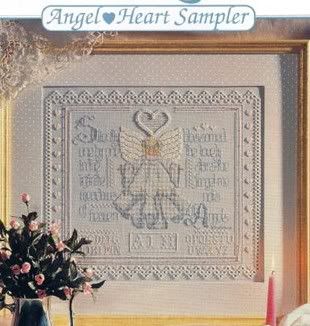 The words on the piece are a quote from Longfellow and they read, "Silently one by one, in the infinite meadows of heaven, Blossomed the lovely stars, the forget-me-nots of the angels"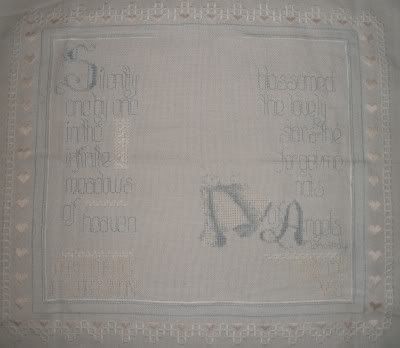 Thank you my friends from the bottom of my heart. This means more to me than I can ever express.
To see what everyone else in class is bringing to
SHOW AND TELL
, take a trip to visit the
Miss Mel, Goddess of the Infertility Blogosphere
.