Right before the end of 2009, I finished up a massive craft project. I know most of my regular readers remember me talking about
my friend Velda
being diagnosed with cancer. Well, Velda is the wonderful woman who built the group of cross stitchers I have been a part of for 10 years now. These ladies are from all over the world and, yet, it feels like we are friends who live just around the corner from each other. We have celebrated so many things with each other. More importantly, these women have also banded together to support each other through births, deaths, pregnancy losses, and illnesses. Many times, we have combined our love of stitching with the need to provide tangible evidence of our love and support and many beautiful cross stitch quilts have been produced and mailed to all corners of the world. When we heard about Velda's diagnosis, we knew what had to be done. I had the privilege and honor of being the person who got to put together Velda's quilt. In less than two months time, 37 cross stitch squares from all over the world (38 counting mine) and various kinds of purple fabric converged on my house. Many people generously donated funds to help with the costs of fabric and shipping (holy hell is International Express Mail expensive) and Velda recieved her quilt on Monday the 11th.
Please take a moment to click on each of these pics and see a close up of the exquisite stitching work all these ladies did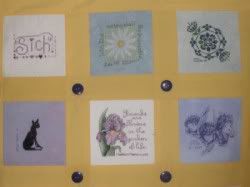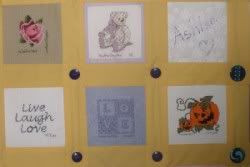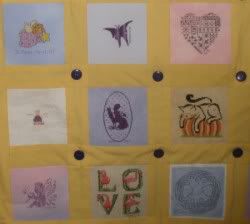 I am honored to have been a part of a project that carries so much love and so many prayers and positive thoughts in it.