Have y'all been reading
Calliope's blog
? If not, why? She has enlisted my help and we are going to be co-conspirators in an effort to help out a fellow blogger we both adore. You can read about the beginnings of our efforts
here
and also be sure to click on the link in that post that will take you to the Google group we are forming. In case y'all don't know, Calliope's son W was born as the result of a cycle that was partially funded by the charity of the ALI community. She is looking at this as her opportunity to pay it forward and I'm lucky enough to get to be in on it...wheeeeeee. Join the fun!
The wonderful chaos that is my life (or maybe it was my tendency towards procrastination) prevented me from getting to the post office on time and mailing out my Christmas cards. So, I'm taking
Niobe's wonderful idea
and running with it. I hereby declare this the year of the Epiphany card and that gives me 2 more days to get them in the mail. I know I'll have a few extra cards so, if you want an Epiphany card,
Email Me
with your name and address.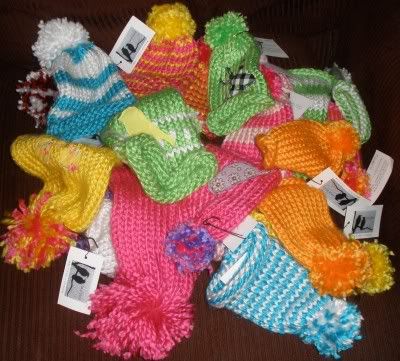 Finally, I have another way you can help someone out (for almost no money) and get something pretty cool in the process. I still have in my hots little hands a bunch of gorgeous crocheted hats that are intended to raise money for the
Liz Logelin Foundation
(if you don't know what that is, go read NOW and then come right back here). All you have to do to claim one of these hats for your own is make a donation to the Liz Logelin foundation.
Email Me
with info about your donation (anything from $1 up) and I will mail you a hat. There are 16 hats left so ONLY the first 16 people to email me with their proof of donation (screenshot, copy and paste email, anything that proves you gave) will get a hat.
And, finally, please hop to the
post below
and wish my dad a Happy Birthday.