Lately, I've been lucky enough to get some awesome pics of some of the smaller members of the wildlife kingdom. I hope you enjoy seeing them as much as I do. The first and third pics are clickable for larger images.
Anyone know what type of butterfly this is? I've been too
lazy
busy to find out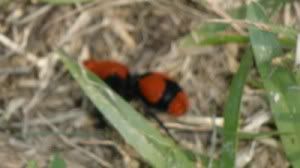 Fire ants are beautiful as long as you avoid the sting.
Did you know that the Daddy Longlegs is really one of the most poisonous spiders in the world but it is completely harmless to people because its mouth is too small to bite us?
Barb
pointed out and
Snopes
confirmed) that this is a myth. Sorry for perpetuating this but I really did see this on a nature show.
World's coolest caterpillar! And, in answer to a question asked, yes I touched it and noticed no reaction to the fur.
*****************************************
To see what everyone else in class is bringing to
SHOW AND TELL
, take a trip to visit the
Miss Mel, Goddess of the Infertility Blogosphere
.