I love beautiful clothes. I love seeing someone well put together. But, honestly, that isn't what I expect to see at a county fair. I expect to see people wearing casual clothes. Even among casual clothes, there are certain things that scream out "DON'T WEAR ME!" Here are a few of the charming selections I saw at the fair yesterday.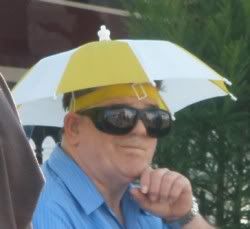 Sun protection is a good thing but an umbrella hat just screams "I have no clue." Wear a fishing type hat, something with a full brim, but, please dear God, do NOT wear an umbrella on your head.
See those lovely clear plastic straps? Well, they would be bad enough if they were the spaghetti straps that belonged to that shirt, but they aren't. That shirt is a halter top and those lovely clear plastic straps are bra straps. Just say NO to bra strap flashing (can't even call it bra strap peak-a-boo because each whole damned strap shows).

Adult men do NOT need to wear thugwear. When the crotch of your jeans is a full 10+ inches below your ass, you are WRONG! And, see those lovely aqua skin tight jeans in the next picture? Even on a young woman, not the best idea. But, on a young man, they scream bad fashion choice.
And, finally, when the bottom of your shorts are approximately even with your crotch, leaving 4+ inches of ass cheek showing, DO NOT LEAVE THE HOUSE. You have either been shopping in your smaller sister's lingerie drawer or you have no common sense whatsoever.
What's the worst fashion choice you've seen in public? Do any of them beat this fine selection of fashion wrecks?
*In answer to WiseGuy's question, I did take the pictures. Thank God my camera has a good zoom.