I'm so happy. In addition to being productive around the house, I've been really productive with my stitchy crafts. I have one cross stitch piece I'm making for a friend but I haven't taken a picture yet.
I finished 4 hats for Lady Nunn over at
Preemie Presents
(please click on the button to the left and find out all about
Preemie Presents
. I'm hoping to knock out at least 4 more before I mail them.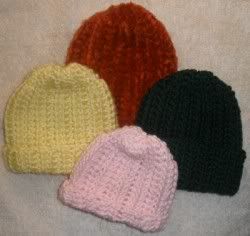 I started making my second
Pay It Forward
gift. It doesn't look like much yet but it's going to be super cute.
And, finally, I finished the hat that is going to be the prize in my blogoversary giveaway. The giveaway will start tomorrow, my 5th blogoversary and I will take entries all week.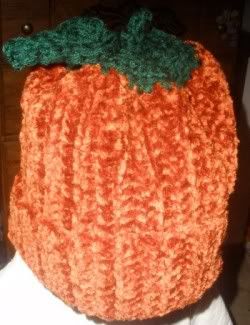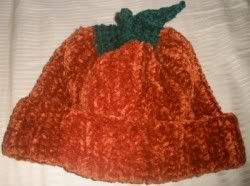 Yes folks, it's an adult sized pumpkin hat. For those of you with a normal sized head, it will be a fairly loose fit and won't completely squish your hair. For those of you with abnormally large cabezas like me, it will still fit. It will just be a snug fit.
So, to wrap it up, hats, half done cuteness, and come back tomorrow to help me celebrate my blogoversary and enter the giveaway.