I met with people at Marty's school and told them about what had been happening. They were properly horrified. The kind of scary thing is this young man wasn't even on their radar as a possible bully.
Marty won't be "officially" withdrawn from school until we get confirmation of our homeschool status but the school knows he isn't coming back. We aren't waiting on the state to actually start homeschooling. We will be starting our adventure on Monday.
3 boys + 3 hammers + *another outdated and broken piece of technology = another afternoon of fun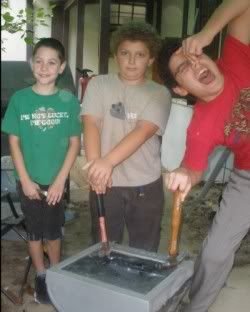 Pray for me. I'm camping Friday and Saturday night and the chance of rain is 50% for Friday night and 90% for Saturday. I like camping but don't really wanna do it in the rain.
Hope y'all have an incredible weekend. See you on the flip side!
*
Sadly, that monitor has been waiting(in our storage closet) to go to the dump for almost 2 years