Today was one of our school system's stupid early release Wednesdays. Marty, of course, was home and Joey got home from school at 1:15 (vs. his normal 3:45 release). We had hours on our hands and very little we had to do. Marty and Joey chose to act out those manly man testosterone driven destructive urges while Gabe let loose with his creative artistic side.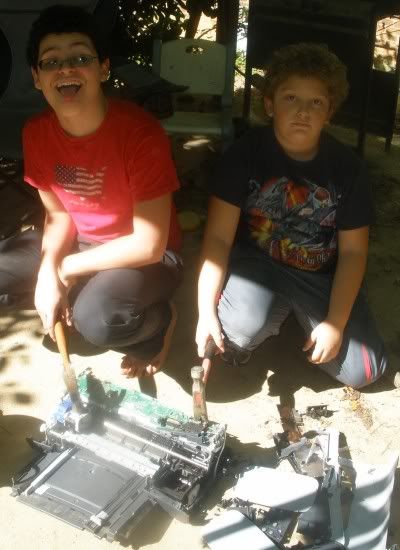 Marty and Joey are always a little happy when some piece of electronic equipment gives up the ghost and goes to the old tech graveyard. They have decided this is a perfect opportunity to wreak havoc and practice destroying things. Above are the remains of my late lamented printer. Sadly, between my printer dying and the internet issues, this hasn't been a good week for technology in the Cruz household.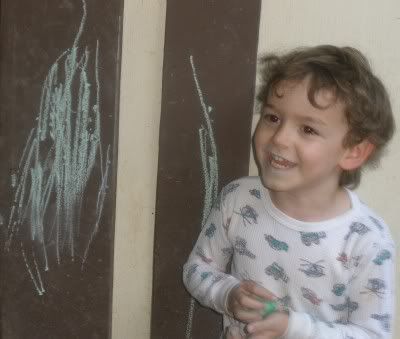 And, Mister Gabriel saw the lovely yellow and brown palette of the side of my house and decided that nothing would enhance it like a healthy dose of green chalk. I'm really, really glad it was chalk and not something permanent.
*****************************************
To see what everyone else in class is bringing to
SHOW AND TELL
, take a trip to visit the
Miss Mel, Goddess of the Infertility Blogosphere
.
*****************************************
Sadly, the internet issues I mentioned in my last post aren't completely solved. We have isolated the problem a bit further. Normally, our computer is hooked to the Vonage modem (internet phone) which then goes to the Earthlink DSL modem. Right now, if I have it hooked up like that, the phone works but I can't connect to the internet. If I take the Vonage modem out of the loop, I can get teh web pages to open on my computer. This means that the Vonage modem is failing. A failing modem like that can handle the data stream for a phone call but can't handle the data stream for a full blown internet connection. So, right now I have a choice between phone or internet. This means I probably won't make iron commenter...or blogger bingo. Boo hoo