I have been busy, busy, busy this week - both with the kids and with my crafty stuff.
I made and attached the label to the memory quilt.
Woohooo, that means it can go into the mail next Friday.
I tried a new crochet pattern. Its fairly simple and straight forward but it creates this smashing boa-like scarf.
You couldn't really see the rich, gorgeous colors in the full length picture so I took a closeup too.
And, finally, I started on the first hat for Preemie Presents. It always boggles my mind to think a baby could be so tiny as to fit into one of these itty bitty hats.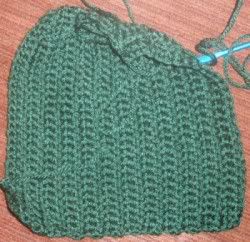 If any of y'all are planning on making stuff for Preemie Presents, there are two fabulous size charts I have found that will help you make the stuff the right size - one at
Bev's Country Cottage
and the second one at the
HeartFelt Angels
site.
****************************************
BLOGOVERSARY ALERT
: I'm fast approaching my 5th blogoversary and my 700th post. Sadly, I won't quite be able to sync up the two dates but I still think the 5 year mark deserves a special recognition. Sooooo, I will be giving away an whimsical adult sized crocheted hat to celebrate my blogoversary. Make sure you come by on October 11th to join in the fun.