It's been a while since I shared a really good Gabe story. As you have probably gathered from previous stories, life with my Gabeycakes is never, ever dull. Gabe
decorated the bathroom
for me. He
added a splash of color
(or lack of it) to the couch. He even decided to
bake cookies
by himself.
Well, Gabe decided to add one more household task to his repertoire. Gabe now does laundry. I had been in our living room getting some things done. When I went into the kitchen, this is what I found...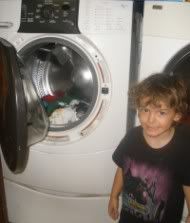 Gabe opened the washing machine, gathered all the clothes up, put them in the machine, pulled his stool over and opened the oxyclean, and then he put about 6 or 7 scoops of oxyclean in the machine. Surprisingly, he only spilled about one scoop on the floor. What could I do but say thank you and have him help me gather up all the other dirty laundry.
****************************************
And, just purely for your entertainment, I wanted to show you a pre-hair brushing picture and a post hair brushing picture of Gabe.
Yes, this is truly a case of bedhead. Here he is after I brushed that gnarly head of hair.
****************************************
To see what everyone else in class is bringing to
SHOW AND TELL
, take a trip to visit the
Miss Mel, Goddess of the Infertility Blogosphere
.