This was first posted over at Weebles Wobblog on July 10th when I guested blogged for her. I decided to post it here too because it's too good of a story...
If you haven't said it, I know you've heard someone say it..."All of a sudden I realized it had been too quiet for too long and I discovered him in the X." You would think after 12+ years and 3 kids, I would realize that too much calm and quiet does not equal a good thing. It equals a kid up to no good. But, even the most experienced parent has moments when they savor the quiet...and, pay the price later. I had one of those days not too long ago.
It was a horrible rainy day and Gabe and I were stuck inside. I was trying to get so work done for my *design company but kept getting interrupted for mommy duty...getting a drink or putting together a puzzle or reading a book. Right before lunch, Gabe came up and said he wanted to wash his hands. When I got up to help him, he told me he wanted to do it on his own. Normally, I try not to let him go into the bathroom unsupervised because he ends up making a mess but I was so thankful to not have to get up (I was on a role designing) that I let him go. I was really in a groove with my design work and, without even realizing it, 15 minutes had passed.
Aaaah, the glorious quiet. But wait, I don't hear Gabe. I don't hear water running either. What could he be doing? I went to find Gabe and this is what I found...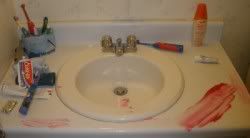 I can understand how the toothpaste got all over the counter but how did it get in and on his ear? Never mind, I don't think I want to know. I guess this was karmic payback for when I finger painted my bedroom walls with **Crest toothpaste when I was 2.
Gabe was thrilled to get to have a bath in the middle of the day. Water + toys always equals a good time in his mind. And, I got a nice shiny, clean counter out of the whole incident.
So, remember the Quiet Principle...Never succumb to the bliss of uninterrupted quiet time. You will pay for it later.
* My bff and sister by choice and I have a cross stitch design company, Cuppa Joe Designs, that we launched just a few months ago.
** Did you know the Crest toothpaste of my childhood would remove paint?