OMG, we had the most fabulous time. My mom, sisters, and I all went to see
The Time Traveler's Wife
yesterday afternoon.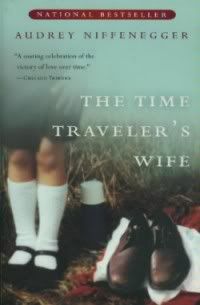 I know there are a lot of people who have panned the movie but I loved it. Yeah, they had to leave things out. Yeah, there were a few minor alterations to the story. However, I felt it was mostly faithful to the mood and tenor of the book. I felt it captured the poignancy of Clare and Henry's story. Out of our group, 3 of us had read the book. All of us that had previously read the book also loved the movie. One of my sisters hadn't read the book and she felt that while the movie was was good, the tenor was depressing and not romantic. I definitely think the book is a must read and I highly recommend the movie.
Like I said before, we had so much fun. As we were walking out of the theater, Keri cracked a joke that was just so silly that we all dissolved into gales of laughter. The poor movie theater janitor looked at us like we were possessed. After all, we were coming out of a movie that definitely wasn't a comedy and that some would say had a sad ending but we were laughing our asses off, something must be wrong with us. Despite getting out of the movie at 6 pm, Jennifer (bff/sister by choice) and I didn't get back to my house until 9:15. Hehe, I think the staff at
Sweet Tomatoes
thought they weren't ever going to get rid of us. We had delicious food. The Won Ton Chicken Happiness salad is TO DIE FOR! We talked and laughed and shared stories. At times, we were laughing so hard that people were turning around to look at us.
Keri has decided that since we subjected her to a depressing movie (it is not depressing) that she was picking the movie next time and she was going to make us go to see
Cloudy With A Chance Of Meatballs
.