to view a larger version of any of the pics, just click
The mountains of North Carolina have many hidden treasures. Almost 13 years ago, Vic and I took our last pre-kids vacation there. We had such an incredible time despite freezing our asses off. Don't scoff, that November, the temps in Boone, NC were colder than the temps in Anchorage, Alaska. We went up to the top of Grandfather Mountain and I looked longingly at the swinging bridge.

Unfortunately, the bridge was far to icy and it was far to windy for me to think about attempting to waddle across it. The next day, we drove over to
Linville Caverns
to explore the caves. My camera at the time sucked at taking pics in dark settings but I did get this beautiful shot on the way over...
The caves were very cool but I wasn't ready to head back to our hotel yet so I bugged Vic until he agreed to take me on the hike to see
Linville Falls
. Why did I have to bug him you ask? Well, the description of the site and the trails said "the trails range in difficulty from moderate to strenuous" and I didn't want to do the wimpy one. Hell, I was only 6 months pregnant, why shouldn't I go on a 3+ mile round trip hike (and, of course, the first mile and a half is pretty steep). We took this pic before we set out on the hike...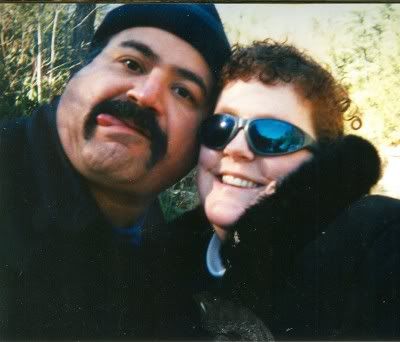 and we got this pic of me when we reached the falls (the pic of Vic is here just because I really like it)...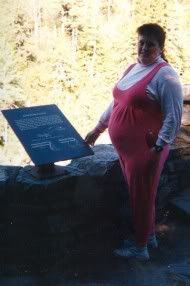 It wasn't that much warmer when we reached the falls. I was just so hot from having hiked all that way. I don't think that was one of my more brilliant decisions but Vic wisely kept his mouth shut and didn't say "I told you so." The final day of our vacation, we went panning for gemstones at
Gem Mountain
. They have a sluice for panning in and you buy a bucket of dirt and stones. They guarantee each bucket will have at least one decent size gemstone in it but we found out that persistence pays off. We got a 5 gallon bucket and spent about 2 hours painstakingly searching it. They gave you a chart to compare your stones too but I got too frustrated by that and was just keeping out any stone that appeared to have a shine or an interesting color to it. Man, oh man, did we get lucky. I have a gallon ziploc bag that is halfway full of gemstones including one sapphire, a few small emeralds, a ruby, a bunch of amethysts, citrine, and topaz. I had one of the amethysts we found cut and set in a ring. Other than my wedding and engagement ring, it's the one piece of bling I wear with any regularity...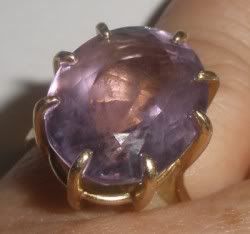 I really want to go back and take the kids there sometime soon. I know they would have a wonderful time.
****************************************
To see what everyone else in class is bringing to
SHOW AND TELL
, take a trip to visit the
Miss Mel, Goddess of the Infertility Blogosphere
.