In today's world, it can be awfully hard for a woman to have a good image of herself. We are constantly surrounded by pictures of size 2 models strutting down a runway and gorgeous women like Jessica Simpson are called fat when they gain a few pounds. I don't know what you think but
Ms. Simpson
looks pretty damned marvelous to me. Hell, when Cosmo will airbrush inches off of someone like Cindy Crawford, there is something seriously fucked up with our countries standard of beauty.
When you are fighting infertility, fighting to get your body to do something it is suppose to do, it can become even harder to think positively about your body. First of all, your body is betraying you by not letting you achieve your very heart's desire. Secondly, it can be very easy to gain weight when you are pumping your body full of hormones and meds to hopefully, please god, have a baby. And, if you are really lucky (tongue in cheek sarcasm here folks), you'll complete the trifecta with depression which destroys body image and causes weight gain.
Well, you know what...fuck it all. Screw society and their love of near anorexic looking women. The people of
*
Operation Beautiful
and I are here to tell you that you are beautiful just the way you are. What is Operation Beautiful you ask? Well, it's the brainchild of a wonderful woman named
Caitlin
and all you have to do to be a part of it is leave a note somewhere telling someone she is beautiful.
I joined in the fun today. I just finished reading a wonderful romance with a supernatural storyline. Its a brand new book with a long waiting list at the library so I know it will get checked out within a day or two. I left this note inside.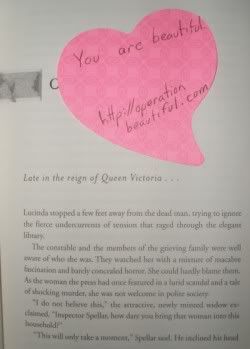 Its simple and to the point but I hope it will make someone smile and remember that they are beautiful.
People are having a lot of fun with this. One person put a note up saying that beauty is not defined by body size and left it in the diet food section of the supermarket. Some people are leaving notes on magazine covers or on bathroom mirrors. I went out and bought two packs of post it notes (hearts and butterflies) and left my first message today. I want to challenge you to join in. Not only will you feel good but you will make someone else smile. Who knows...it could be someone who really needs a smile.
*
Thanks to my friend Tammy for bringing Operation Beautiful to my attention.