I've been working on a very special quilt this week. I'm making a memory/baby quilt for a very special lady and I wanted to show you a little of it.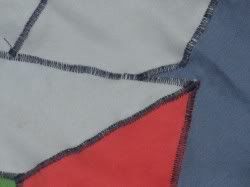 I know you can't really tell much from the pictures but I really want the design to be a surprise for this lovely lady. Also, it will be her story to tell once she gets the quilt.
Check out what everyone else has been up to...
Stitching Post Saturday
on
MiPa's blog
.