My garden beat me. I hate to say it because my plants started out so beautifully.
I worked hard and prepared the garden bed.
All my gorgeous pea plants dies shortly after being put in the ground. That should have been my first clue something was up. And, then this little friend and his family started making regular trips to my garden.
Even though my green bean plants didn't seem to grow much once they were in the ground, they were producing beans buy Mr. Bunny and his compatriots ate all but 2 of them.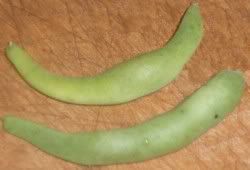 My corn is only about waist high but already has tassels on it. It should be a lot taller. And, all that grass I removed, evidently, I didn't get all the roots so it came back with a vengeance. And, after the torrential downpour we had at the end of last week, the grass held in so much moisture that the plant that produced my one squash started to rot.
I am pretty sure the pH in the soil is screwed badly and that is why the peas and the tomatoes died and the corn is so stunted. I'm holding out hope for the corn but I decided the rest is a lost cause. I mowed it down and I'm going to start prepping it for next year. The first aim is going to be killing off the grass, roots and all. Hopefully, next year, my beautiful plants will have a gorgeous , well prepared plot of dirt to grow and thrive in.
****************************************
BlogHer '09 attendees...how much did it end up costing on top of hotel costs and conference fees? I'm trying to start planning for next year. If you don't want this info publicly available, my email addy is in the right hand column of my blog.