The first Marty in my life was my Grandpa (and, yes, that is where my son's name came from). He was such an incredible man. My Grandpa spent 30 years in the Air Force. He is one of the few people that started out as an enlisted man and was promoted to colonel before he retired. My Grandpa fought in WWII, Korea, and Vietnam. He was involved in spy missions that the US flew over Russia (not the U2 missions). My Grandpa Marty was even with a squadron that almost got lost in the Bermuda Triangle. He was a true patriot and a hero to our country but, most importantly, he was an incredible husband, father, and grandfather. I remember him hopping into the guest room at their house pretending to be the Easter Bunny one of the last Easters we spent with him. I remember playing Backgammon against him for hours on end and I remember how thrilled I was when I finally got good enough to win. I remember him as a larger than life figure who I miss desperately even though its been more than 26 years since he died. My grandma lived for about 20 years after he died but never found anyone that could even hold a candle to him. Last week when I was down at my parents' house, I had the opportunity to scan a few pictures of him and his flight crew from WWII that my parents had. I'd like to share them with you. Please click on the pics to see a bigger version (they will open in another window).
Great Ashfield England - Jan or Feb 1944
Back row L to R:
Radio Operator??, Waist Gunner - Sgt. Foster, Ball Turret Gunner??
Waist Gunner - Sgt. Ramey, Tail Gunner - Jerikus, Crew Chief - Valvano

Front Row L to R:
Pilot - Lt. Sr. "Pat" Patrissi, CoPilot - 1st Lt. Ed "Mac" McCreary,
Navigator - Lt. Gilbert "Gil" Shapiro, Bombardier - Lt. Martin "Swede" Iverson...my Grandpa
England 1944

Celebrating the completion of 30 missions
Patrissi, Swede (my Grandpa, isn't he handsome!),
and replacement copilot (Mac was in the hospital)
England 1944

Swede (my Grandpa) and Valvaro
by the tail gun of the "Charlotte Ann"
England 1944

My Grandpa in the nose of the "Charlotte Ann"
This is my favorite picture in the group.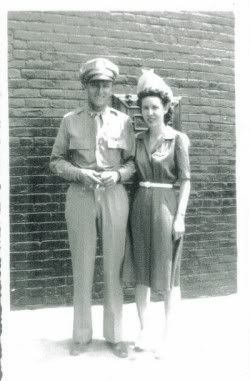 Graduation at George Field, Illinois July 1943

Lt. McCreary and his lovely wife Charlotte...
possibly the namesake of the plane
England 1944

Salvatore Patrissi - pilot of the "Charlotte Ann"
**************************************************

To see what everyone else in class is bringing to
SHOW AND TELL
, take a trip to visit the
Miss Mel, Goddess of the Infertility Blogosphere
.