Someone from my church brought these lovely flowers by on Monday. They were the altar flowers from Sunday and someone decided we needed a show of support to help us get through my FIL's death. And, they are my favorite colors...purple and green!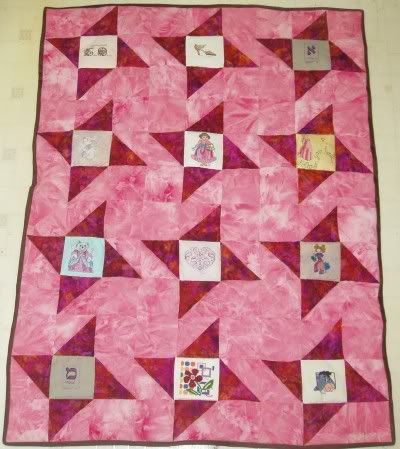 I finished the Bat Mitzvah present for my friend Jen's daughter, Emily.
Jen
asked a group of us who are friends to help her put this together for Emily's special day. I finished it...YAY. And, hopefully (please God), it will get there today...only one day before the Bat Mitzvah. If you want to see close ups of the squares, check
this link
. The square design is a quilting pattern called the friendship square. Normally, the center of each pieced square would be the darker color but that is where I placed the cross stitch squares. I like it but, do you think a 13 yr old will like it?