When we were trying to get pregnant with my oldest son, I decided I wanted to make my baby's christening gown. I found a wonderful thread crochet pattern and set to work. This is the result...
Christening gown, hat and booties...crocheted in '96...worn by all three of my boys.
Close up of buttons and hat...I couldn't find buttons I liked so I bought the beads in the right color and made these buttons.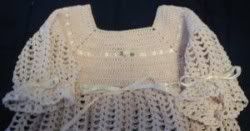 Close up of the front of the bodice and the booties.
I hope I get to use this one more time.
To see more wonderful
SHOW AND TELL
, check in with
Miss Lollipop
.