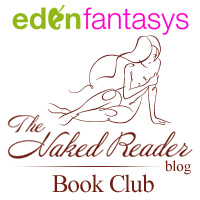 Y'all know I'm a huge fan of romance novels. Well, in the past few years, I've branched out and started reading erotica. Well, I love to find out more about the writers whose books I am reading and I recently found out that
EdenFantasys
has multiple ways to explore erotica and learn about the authors. Of course, there is
The Naked Reader Book Club
. According to the web page, the Naked Reader Book Club allows you to "join venerated erotica publisher Cleis Press, EdenFantasys and SexIs in an ongoing online book club for inquiring minds who love to read about all things sexual—from the politics of pornography to the erotically evocative boundaries of desire."
EdenFantasys also does interviews with a wide variety of people and recently, they did an interview that dovetails nicely with my desire to learn more about authors in this genre. They did an
interview with author/editor Sacchi Green
. This was such a fun and revealing read. Ms. Green answered in depth questions about the writing and editing process and she also entertained questions about her personal life.
To celebrate reading and to hopefully drag someone else into my love of romance and erotica, I want to have a
GIVEAWAY
. I'm going to pass on to one lucky reader a book from one of my favorite erotica authors, Lisa G. Riley. Now, I want to assure you that this is not porn. This book is a collection of 3 stories - all with strong story lines, well rounded characters, wonderful romance, and hot, steamy sex scenes. Along with the book, the winner will get a crocheted bookmark. The giveaway is limited to people who are 18 and over. To enter, simply post and tell me what your favorite book is (no matter what the genre). You can get an extra entry by tweeting (or facebooking) each day
Enter to win a book and hand crocheted bookmark from @dragondream http://bit.ly/l7VI2J #giveaway
Remember to come back here and comment with a link to your tweet. The giveaway is going to run from today through 11:59 pm 5/10/11. Winner will be announced next Wednesday 5/11/11.