On Friday night, we had a disaster of cataclysmic proportions. The one working computer in our house died. Luckily, the issues were within the realm of fixable problems.
*warning* techno-geekish talk ahead*
We had power blips earlier in the week and the on/off corrupted a file vital to the start up procedure. We were able to restore it to the factory settings but this means we have had to reload tons of programs. We also ended up having to revert to the integrated video/graphics card which means certain things don't look quite right.
* techno-geekish talk over*
A huge thanks to my friend
Rys
for letting y'all know where I went.
I think I am getting desperate for a break. I had a long involved dream about actually being at BlogHer. I dreamed I met and talked to
Mel
,
Aunt Becky
, and
Anissa
. Don't know why my brain picked these three lovely ladies out of all the people I'm excited to meet but it did.
I got to visit with some wonderful friends of mine on Saturday. We haven't been able to mesh schedules since August and I was so excited to have them over. Marty was thrilled to see he is finally taller than their teenage daughter.
I picked the first peppers from my container garden this weekend. The plants my sis gave me were labeled bell peppers but, these peppers obviously are not bell peppers. The taste a lot like bell peppers...not much of a bite.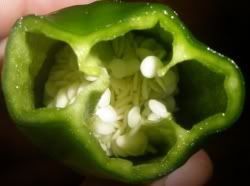 Anyone have any idea what kind of peppers I am growing?
I finished the companion elephant to the one mentioned back in
this post
. Both elephants were made with the same pattern but the newer elephant was made with a thinner yarn and a smaller hook.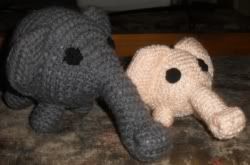 And, on Sunday, I had a perfect moment with my middle son. Joey brought me breakfast...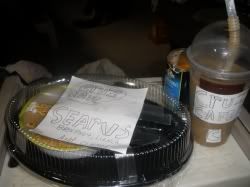 and told me her thought it was the least he could do for me because I dealt with all the loudness and craziness of tons of people in the house on Saturday (when our friends visited). I thought that was one of the sweetest things anyone has done for me recently. You can check out this week's Perfect Moment Mondays at
Weebles Wobblog
.
So, what's going on in your world?