Gabe has been at it again. Not that crazy Gabe happenings are anything new. He always seems to be up to something. For those of you who missed it, I wrote a
post about Gabe and his antics
about a week and a half ago. Go read it. It will give you a base of reference for this craziness.
The other morning, I heard Gabe calling me from the kitchen. This is what happened...
Gabe: "Mom, moooooommmm"
Me: "Just a minute. I'll be right there."
I come around the corner to see this...
What? You can't tell what's in there? Here, take a closer look...
Me:"GET OUT OF THERE NOW!"
Gabe: "Ummmmmmmmm, ummmmmmmmm, because I'm jelly!"
Sadly, I made the mistake of laughing. Now, at random points throughout the day, Gabe hops in the fridge and yells "I'm jelly!"
**********************

Also, Gabe has a question for all of you. He asked me this question yesterday but seems to need a second opinion. He wants to know...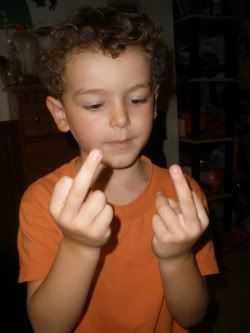 Are these my middle fingers?