Welcome to Photo Friday sponsored by the brilliant and beautiful Calliope of
Creating Motherhood
. This weeks theme is pets or, in the case of my pets, our 4-legged, furry family.
We have 5 furry family members - 2 dogs (one a pound puppy and one from my sister) and 3 cats (one pound kitty, one from my mom, and one inherited from a friend). Our animals are true personalities and can be almost as maddening as our kiddos. I'd like to introduce you to our furry family members...

Jolie and Jack
Jolie is almost 10 1/2 and she is our pound puppy. Although we don't have papers to show it, we are almost 100% certain she is a pure bred border collie. She has almost all of the traits that breed is known for. Jolie has decided she is my dog. She ignores half of what Vic says and she pouts and sulks whenever I go out of town.
Jack is half husky and half golden retriever. He's about 6 yrs old and acts like a puppy. Even though he has his wild moments he is unfailingly patient with the kids. Gabe adores him and has decided Jack belongs to him.

Snoopy



Freddy
Snoopy and Freddy belong to Marty. Snoopy is also about 10 1/2 and, just like Jolie, we got him when he was about 1 1/2. We inherited him from a friend who was too sick to keep him anymore. Snoopy promptly attached himself to Marty. Lately, Snoopy has gotten stubborn and has decided he wants to live outdoors. Since Marty missed having an indoor cat, he used some birthday money and adopted Freddy from the pound. Freddy is polydactyl (one extra toe) on his front paws and is a very talkative kitty.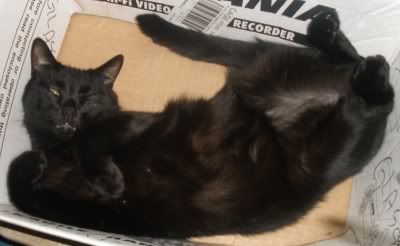 Max in the Box
Max is the youngest of our furry family. He is about 2.I really think that he doesn't believe he is only a house cat. I think the extra long tail has caused him to believe he is really a panther. Max is Joey's furry friend.
Now, head on over to Calli's y'all and
check out everyone's photos this week
...and, break out those cameras and participate next week.